2018 Awards Gala

Thursday, May 3, 2018, 6:00pm-9:30pm
University of the District of Columbia (UDC)
Student Center
4200 Connecticut Ave., NW
Washington, DC 20008
Our community of landscape architects will recognize projects with professional awards, lifetime achievement awards, and Edward B. Ballard Scholarship recipients.  There will be plenty of time to network and opportunities to learn from colleagues.  All in a special setting with delicious food & drink.  Your ticket includes a reception with passed hors d'oeuvres, 3-course dinner, and beer & wine.
This year the winners will be announced in advance – but not their winning category.  Register now so you'll be in the audience as the winners are announced.
Special thanks to our Gala Sponsors: ANOVA, Landscape Forms, and Victor Stanley, Inc.
Click here for tickets and more details.  Register by the April 3 early-bird deadline to save $40.  Registrations must be received no later than April 30.  No on-site registrations are possible.
Keynote Speech by Charles A. Birnbaum, FASLA, President & CEO of The Cultural Landscape Foundation
"Leading by Example and Expanding our Definition of Traditional Practice."
Charles A. Birnbaum, is President & CEO of The Cultural Landscape Foundation. Before creating TCLF, he spent 15 years as coordinator of the National Park Service Historic Landscape Initiative and a decade in private practice in NYC focused on landscape preservation and urban design. He has authored/edited numerous publications, is an ASLA Fellow, was a Loeb Fellow at Harvard's GSD, and a Rome Prize recipient. He was awarded the ASLA's LaGasse Medal in 2008, the President's Medal in 2009 and in 2017 The ASLA Medal. He is a frequent contributor to The Huffington Post.
Lifetime Achievement Award to be Presented to John G. Parsons, FASLA

John Parsons enjoyed a 40-year career with the National Park Service.  He served as the Director of the planning, development, land acquisition, congressional affairs and historic preservation programs for the National Parks in and around Washington, D.C.  He led efforts to create eight major new parks, establish 25 national memorials and acquire 35,000 acres, which doubled the size of parks in the Nation's Capital.  He also served on five separate commissions which had responsibility for approving private and public development in the Nation's Capital.  In this capacity, he fought vigorously to protect parks from proposed adverse adjacent development
He is a Fellow in the American Society of Landscape Architects and has received their prestigious Lagasse Medal for his protection and enhancement of National Parks. He was awarded the Distinguished Service Medal by the Secretary of Interior, which is the highest honor bestowed on Departmental employees.
---
Scenes from our recent Awards Galas
The top professional award in 2017 – the President's Award – was presented to CallisonRTKL/Arcadis for Blue Current DC, in the Unbuilt Design Category.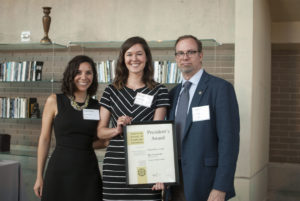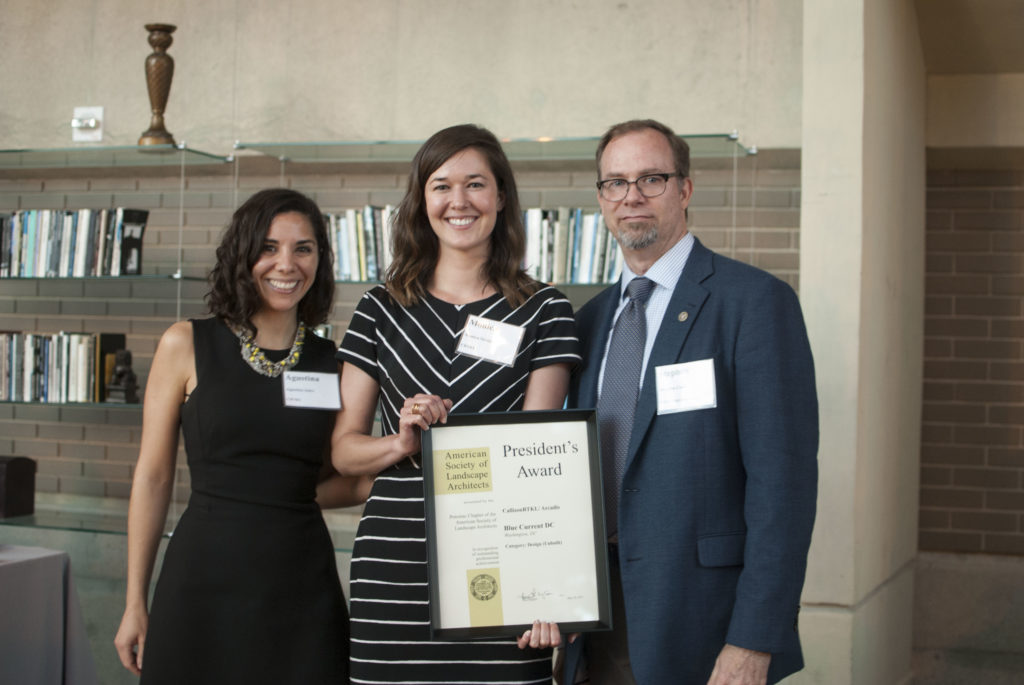 Monica Streeper (center) and Agustina Solar (left) accepted the award and are pictured here with Potomac Chapter President-Elect Steve Cook, ASLA (right).