News & Events
Scroll down for details on upcoming events.
Dec. 11, 6:30-8:00pm
Talk: Reclaiming Urban Spaces
National Building Museum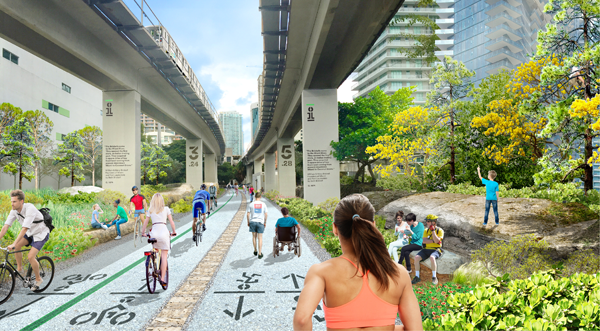 Learn how cities across the country are reclaiming marginal space for new uses. Parks, housing, offices and retail are rising on urban spaces that were once ignored or considered unbuildable. Projects such as Hudson Yards in New York City, Capitol Crossing in Washington, D.C. and The Underline in Miami, FL are combining innovative thinking about urban space and cutting edge building technology to create vibrant urban places to live, work and play in places previously ignored or considered unbuildable.
Panelists:
Braulio Agnese, freelance architecture and design journalist (moderator) (moderator)
Isabel Castilla, principal, James Corner Field Operations
Bradford McKee, editor, Landscape Architecture Magazine
Mark Strieter, PLA, ASLA, senior associate, Nelson Byrd Woltz Landscape Architects
This program is part three of a special series: Found Ground
1.5 LU (AIA) / 1.5 CM (AICP) / 1.5 PDH (LA CES)
$12 Museum and ASLA Member | $10 Student | $20 Non-member
Tickets are non-refundable and non-transferable. Online registration for Museum programs closes at midnight the day before the scheduled program.
Dec. 12, 7 pm (doors open at 6:30pm)
LAM Lecture: Landscape as Chromatic Relationships
supported by Victor Stanley, Inc.

ASLA Center for Landscape Architecture
1.0 LA CES
Gareth Doherty's talk will discuss color and landscape as relating to two recent projects. First, drawing from ethnographic fieldwork, Doherty will explores the landscapes of the city-state of Bahrain, where green represents a plethora of implicit human values and exists in dialectical tension with other culturally and environmentally significant colors and hues. Second, the talk will touch upon the work of Roberto Burle Marx, the acclaimed Brazilian landscape architect, who saw color as among the most important elements a landscape architect can work with.
More details and registration here.
Dec. 12, 8:30-10pm
Immediately following the LAM Lecture
Potomac Chapter Holiday Gathering
Join Potomac Chapter ASLA members and attendees from the Landscape Architecture Magazine (LAM) lecture to share ideas and celebrate the holidays immediately following the LAM event.
Fado's Irish Pub is a short walk from ASLA's Center for Landscape Architecture.  The Holiday Gathering is complimentary to current Potomac Chapter ASLA members, 2017 Potomac Chapter sponsors, LA students, and LAM attendees, as well as guests of the above.  Non-members pay just $15.
Please be sure to register in advance so that we order enough food!  You'll also receive a drink ticket.
Special thanks to BV Associates and Hadco Lighting for sponsoring this event!
Click here to register.